Sightseeing
Day 1
Naddi
The village of Naddi is situated at a height of 7,152 feet above sea level (2180 m) and offers a magnificent view of Dhauladhar mountain range to the north and the vast expanse of the lush green Kangra Valley to the south. Naddi is situated away from the hustle and bustle of McLeod Ganj and provides complete peace of mind to for anyone who travels to this quite village.
The village mostly attracts families that want a weekend getaway from the nearby towns and cities.
DAL LAKE
The sacred Dal lake with natural water body is 11km from Lower Dharamshala connected by motorable road. It is the starting point of excursions and trekking and is located next to the Tibetan Children's village. The lake is a scenic picnic spot surrounded by the forests of Deodar. There is a temple of Durveshwar Mahadev by the side of the lake. A colourful annual fair is held every september on the ady of Radhaashtami. Dal lake is spot of religious importance, besides, a place of tourist attraction.
CHURCH OF ST. JOHN IN THE WILDERNESS
Fifteen minutes' walk from McLeod Gunj, the Anglican church lies in the forest near Forsyth Gunj. This neo-Gothic stone church was built in 1852 and has some fine Belgian stained-glass windows. It miraculously survived the 1905 earthquake – only the spire collapsed. A memorial to Lord Elgin stands in the churchyard. The British Viceroy died in Dharamsala and is buried here. Visiting hours for the church and cemetery are 10 am to 5 pm each day.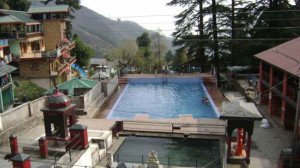 BHAGSUNAG
This ancient temple is 1 kms from Mcleodganj. Close to this temple is a beautiful waterfall.Near the Dal Lake is the shrine of Bhagsunath an easy walk from the Mecleod ganj. Famous for its ancient temple and a pretty waterfall not far away. The rock temple dedicated to local Goddess is just 3 km from Kotwali Bazaar.
Dharamkot
Dharamkot is a small hippie village near McLeod area, ideal for a few days' time off from real world or months away if you're lucky enough to take time off work for that long.
Dharamkot is the perfect base for multiple treks such as Triund, Illaqua, Indrahar Pass, etc.
Mcleodganj Market
McLeod Ganj Central Square. Well-known for having Nowrojee and Son, the oldest shop in the city founded in 1860, the area has beautiful stores selling wooden carvings, Thangka tapestry paintings and handicrafts.
Dalai Lama Temple
The town of McLeod Ganj in Upper Dharamsala is known worldwide as His Holiness the Dalai Lama resides here and is also known as Little Lhasa of Tibet. The main temple is where His Holiness the Dalai Lama gives teachings several times a year. His Holiness' residence is located near the main temple and the headquarters of the Tibetan Government in Exile is located just below McLeod Ganj.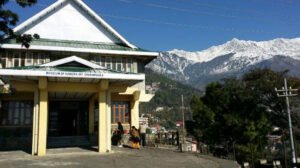 Kangra Art Museum
Museum of Kangra Art was opened on 17 January, 1990 to preserve, conserve and revive the rich cultural heritage of Kangra region. Museum is a treasure house of rich heritage of the valleys art and culture, located near Kotwali Bazaar at Dharmshala.
Museum is still in infancy but now the collection is incresead to 1500 art object comprising miniature paintings, textiles, sculptures, jewellery, coins and objects of cultural anthropology.
Tea Estate & Garden Dharamshala
When you head for McLeodganj from Dharamshala through the long route (not from the shortcut that goes from within the market), you will find a very wide elbow turn. On the edge, there is a sign board of the Tea Plantation of Dharamshala. At 10 mins. walking distance, you will reach a place, covered with dense green leaves and filled with magnificent aroma of fresh tea.
Kunal Pathri Temple
Kunal Pathri is a little rock temple dedicated to goddess Durga in Dharamshala. Located in the beautiful Dhauladhar Ranges in Kangra district, this ancient temple is surrounded by dense tea gardens and is the perfect place for a long peaceful walk amidst the lush surroundings. The temple displays exquisite carvings of gods and goddesses. It is said that there is a stone in the temple that always remains wet. According to local legend, the moment it starts drying, it rains. It is believed that when goddess Sati, wife of Lord Shiva, died, her skull had fallen here on this spot.
War Memorial
Among many places to see in picturesque Dharamshala, War memorial i.e "Sahid Smark" is famous for its beauty and for proudly commemorating the memory of the war heroes who fought bravely for their motherland and sacrificed their lives to save its people and respect. This War Memorial was built as a tribute to the brave Indian soldiers who fought for their country. This place is very calm and is surrounded by a lots of different trees and pines. To reach War Memorial is pretty easy.The memorial is situated near the entry point to Dharamshala, as we are about to reach Dharamshala from Kangra or Gaggal airport, we find war memorial as a first place to see in Dharamshala. We can locate War Memorial about 1 km before Dharamshala main bus stand on the main highway.
International Cricket Stadium
HPCA Cricket stadium set against the backdrop of the dramatic snow clad mountains, is perched on the high slopes in the upper reaches of Kangra valley. Today, Dharamshala has become the synonymous to the Tibetan government in exile and the home town of Tibetan leader His Holiness Dalai Lama along with the Cricket Stadium. It is not only noted for its cool salubrious air and its stunning mountain scenery but known for serene ambience, rolling meadows and spell binding views.